Thriving in the margin. Growing through the spaces and cracks. Pioneer sprouts who will eventually become insect habitat.
OCEAN - John Butler - 2012 Studio Version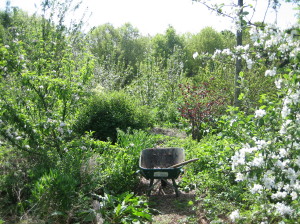 A Forest Garden is a planting which mimics an immature woodland, in which everything is edible or useful. Plants are grown using every available space - under the ground, on the ground, as bushes, trees and climbers. It requires minimal maintenance once established as all the plants are perennials or self seed easily and the ground is permenantly covered.
If you search YouTube for the oxymoronically titled video "Greening the Desert," you'll find a 2007 mini-documentary about how an energetic Australian miraculously transformed 10 acres of hyper-arid Middle Eastern desert into a lush, edible paradise. The details are scant and the narrator doesn't begin to explain his religion—that is, permaculture—but still, the video is responsible for converting at least one Calgarian, former oil-and-gas engineer Rob Avis, into a full-time permaculture crusader. If it were up to him (whose mantra, which you'll also hear in the video, is "all the change in the world starts in the garden"), every resident of Calgary would one day, like him, grow a "food forest" on his or her front lawn. For a little help in spreading the good word (and the natural fertilizer), Rob and his wife, Michelle, are bringing to town this week agricultural visionary Joel Salatin, widely known as "America's most influential farmer."
star apple creates aesthetically designed organic edible gardens
One way in which permaculture differs from other methods of gardening is that it is not just a set of practical techniques; it is a way of thinking and of adapting to a particular ecology. Each garden, each family, and each community is different, so permaculture relies on observation and local knowledge. That's why, in addition to the underlying concepts of earth care, people care, and fair share, permaculture is built around twelve guiding principles. Whether you are starting a new garden, or introducing permaculture practices to an existing garden, these principles will help you to understand the design process. —Christopher Shein
Text excerpted from The Vegetable Gardener's Guide to Permaculture by Christopher Shein
still one of the best things ive ever seen.

slaughter melon reporting for duty.

BROCONUT

m a n g ERI NE

FUCKING SLAUGHTERMELON

too good to not reblog
DODGEBALL!